The Best Dressed Duck Competition in aid of Brainwave is back! It's virtual and free to enter (however donations are gratefully accepted)!
All you need to do is download the duck template and then submit your entry via the entry form on the Brainwave website.

The winner will have their duck made into a real life creation by the New Bailey team. Entries close on Easter Monday and the winner will be announced the following Friday.
You can enter here and donate here.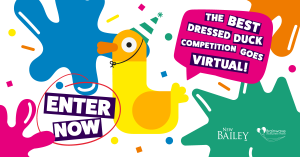 Read more