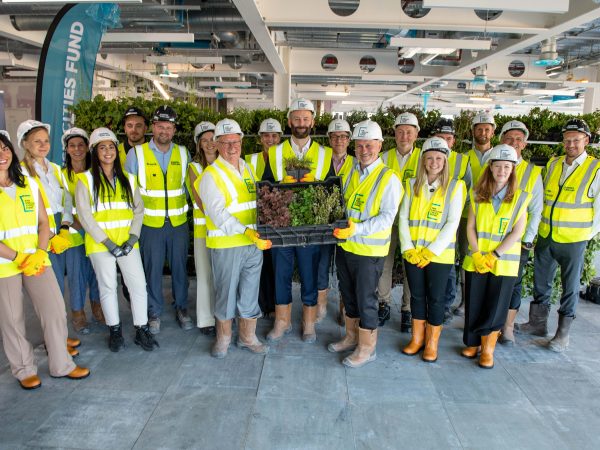 [Photo: At the front holding the plants, are (left to right): Sir Michael Lyons (Chair, ECF), Paul Dennett (City Mayor of Salford), and Graeme Orchison (Partner and Location Head, TLT).]
Sir Michael Lyons, Chair of The English Cities Fund (ECF) and Paul Dennett, the City Mayor of Salford, yesterday (14th June 2023) paid a visit to Eden, the £36 million, 115,000 sq. ft 12-storey office building in Salford, being developed by The English Cities Fund (ECF) to celebrate the living wall which adorns it, and which will be Europe's largest, being close to completion.
As part of the visit, Sir Michael, who has been the Chair of ECF since 2002, and the City Mayor were given a tour which included an introduction to the 32 species of plants that have been selected for the wall. Thyme is amongst the 350,000 plants growing on Eden which may be scientific in intent but also carries apt symbolism given the plant's contribution to improving air quality with its anti-microbial, anti-bacterial and anti-fungal properties. Associated with purification, courage, and strength, Thyme, is known as a protective herb, providing defence against negative energy and influences.
Ella Woodward, development manager at ECF, said: "Eden has been designed for companies that place sustainability at their hearts. As a business, we're committed to building a brighter, greener, future for the next generation. This place-changing building has been designed to push the envelope in terms of sustainable regeneration and highlight what can be achieved when like-minded partners work together to deliver something truly special for the benefit of everyone."
Commenting, Paul Dennett, City Mayor of Salford said: "Eden has already become an icon for our city; an embodiment of creative strength and statement of positivity in a city with a proud heritage of innovation. More than that though, it symbolises everything we need to embrace going forward in terms of community and sustainability. We all need to do our bit to look after each other and the world around us.
"Eden promises not only to look after those in and around it, but also serve as an example of how buildings can work with and for the environment when conceived and constructed with care."
Also in attendance at the ceremony was Graeme Orchison, partner and location head for TLT in Manchester, which has already signed a lease for space in the building. He said: "Our Manchester team is very much looking forward to its move to Eden – a move which cements our commitment to the region whilst also representing our commitment to sustainability, and a people-first culture where employees have the space and support to produce their best work. Our values are very much reflected in Eden's ground-breaking approach that will lead the way for the future workplaces that are both better for our people and the planet."
Paul Sykes, Regional Director at Bowmer + Kirkland which was contracted to construct Eden, added: "This is a momentous few weeks in the construction of Eden as we are now watching the building come to life. Our entire team has been proud to work on this unique project that is bringing biodiversity to the centre of Manchester and highlighting ways in which we can build healthier, more environmentally conscious workspaces in our city centres.
"It's not very often that we get to build something that will continue to grow in front of our eyes and provide a home not only for the people working in the building but also a habitat for a diverse range of creatures."
The symbolism of other plants on the wall includes Hypericum perforatum (St John's-Wort), which is believed to have great protective powers, Fragaria ananassa (strawberry plants) which have always connoted purity, passion and healing, and Hyacinthoides non-scripta (bluebells) said to represent constancy, humility, and gratitude.
Planting of the wall started in February with around two plants put in place every minute since. By the end of July, the wall will be fully planted and cover 36,000 sq ft of the building – for the Wimbledon fans out there, that's equivalent to approximately 12.5 championship-sized tennis courts! It also happens to be the same size as the Turbine Hall at the Tate Modern in London.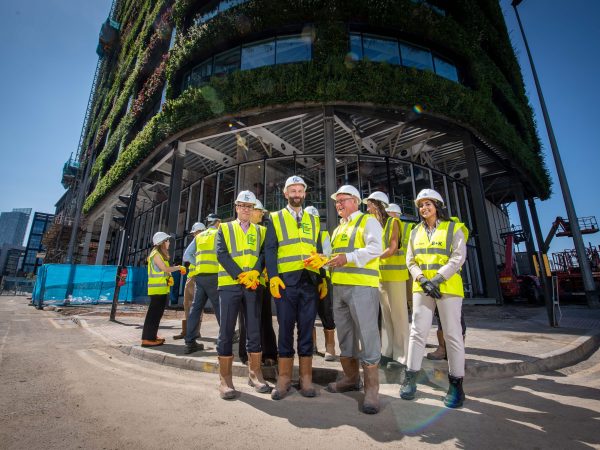 [Photo: Outside Eden, you have (left to right at the front): Tom Stannard (CEO SCC), Paul Dennett (City Mayor of Salford) and Sir Michael Lyons (Chair, ECF).]
How does the living wall benefit the local environment?
Eden's façade has been designed to remove air pollutants including carbon, reduce urban temperatures offering thermal benefits to occupiers, and deliver a 174% net gain in the biodiversity of the area.
Each species of plant has been specially selected for its biodiversity, being rich in pollinators or the ability to mitigate air pollution. Alongside the English Thymus (Thyme Vulgaris) which is good for air quality, other plant species amongst those in the living wall include Hypericum Hidcote (St John's Wort) which provides nectar and berries for birds, and Hyacinthoides non-scripta (Bluebell) which is an early source of nectar.
Rainwater will be harvested and stored at the roof for use within the living wall's irrigation system, with a mains water back up option should there be a shortage of rainfall.
What are the benefits for those working in the building?
The building also has a range of health benefits, with Eden designed to enhance occupier health, wellbeing, productivity, and will embrace the WELL Building Standard principles, which aim to improve health and human experience through design.  Once inside, those working from Eden will also benefit from wellness spaces for yoga and quiet contemplation, while the roof terrace will provide panoramic city views perfect for socialising with others in the building.
For those who wish to cycle to work, there is a ground-floor cycle hub with 156 bike spaces and two drying rooms for damp clothes.
What other sustainable features does Eden contain?
Once complete, Eden will be enabled to run solely on 100% renewable electricity and has been designed using the UK Green Building Council's 2030-2035 operational energy targets. Designed by Make Architects, Eden is also a LETI (London Energy Transformation Initiative) pioneer project (a group of projects that seek to achieve targets in line with LETI's Climate Emergency Design Guide).