As the 350,000 plants for Europe's biggest living wall start to grow, its creators give advice on how to recreate a living wall in a garden or small outdoor space.
Europe's biggest living wall will be a key feature of Eden, a 12-storey office building currently being built in Manchester which will set the sustainable building agenda for years to come.  It's being developed by The English Cities Fund who are pioneering in delivering buildings which set ambitious sustainable standards in design, construction and operation.
As part of its many sustainable and wellbeing elements, Eden will have a stunning all-year-round living wall covering a surface area of approximately 4,000m2 which will encompass 32 plant species.  Each species of plant has been specially selected for its biodiversity, rich in pollinators or ability to mitigate air pollution.  Plants including:
Thymus vulgaris (English Thyme) – good for air quality (hairy leaves, better for air purifying)
Hypericum Hidcote (St John's Wort) – source of nectar and berries for birds
Hyacinthoides non-scripta (Bluebell) – early source of nectar
Steve McIntyre, Eden's principal urban environmental consultant added:
"Eden's living wall will not only be lush and striking it will be serving a very important purpose of creating an oxygenated environment and capturing carbon dioxide."
How can gardeners at home create their own living wall
Work may have started on Europe's biggest living wall, but that doesn't mean smaller versions can't be recreated at home. Eden's living wall will feature specially selected plants, but there's many aspects that readers can use in their own gardens.
Select plants that have a woodier stem such as Sarcococca (Sweet Box) and Berberis (Barberry).
Plants with hairy leaves with large surface areas such as geraniums, woodland strawberry (Fragaria vesca) and spearmint will also add colour and attract pollinators.
No space for a living wall? Most garden centres sell troughs or outdoor shelving which can stand near a house wall or outside space.
Think about natural rainwater systems and use drain pipe extension links (available from hardware stores) to direct rain straight onto your plants.
Don't forget to include bird boxes and bug hotels.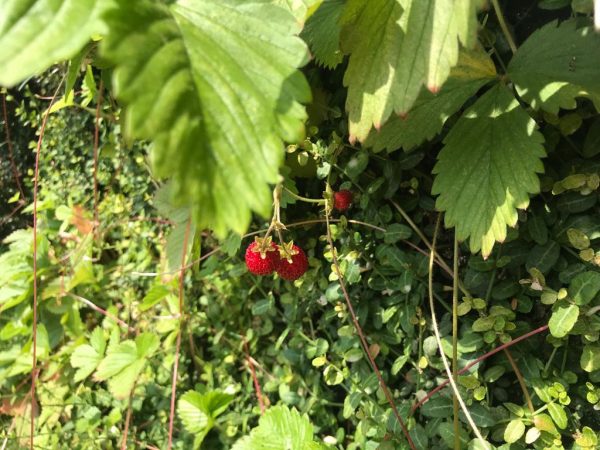 Strawberries are excellent grown on living walls